If you're anything like us, you deal with being hungry quite frequently.
With all the working out we do, we have to eat a lot, so today, we wanted to give you some tips on dealing with hunger and avoiding getting hangry.
1. ALWAYS ALWAYS ALWAYS bring some type of snack with you wherever you go. Ladies, that's what purses are for, right?
Emergency stash of fig bars in my purse saved us on date night!
2. We like to eat a HUGE breakfast to start our day off on a good note. When we don't eat enough for breakfast, we tend to be cranky and hungrier all day long. Our favorites are Peanut butter and banana toast, some type of oatmeal with peanut butter (when we have more time, we make BAKED oatmeal!) or a huge bowl of cereal and yogurt and peanut butter (our favorite is when we can use an almost empty peanut butter jar and scrape out every last bit of peanut butter with our yogurt mess)!
3. Sign up for
FITSNACK
to get healthy and filling snacks delivered RIGHT TO YOUR DOOR!
Our favorite snacks from the July box were SkinnyPop, Justin's Almond Butter, and the Peanuts! MMM!! Don't forget you can also get a free gym bag when you sign up and
click on this link
: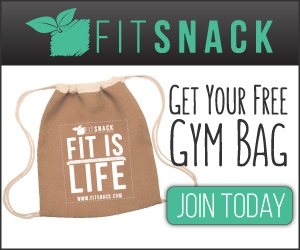 4. Be sure to eat plenty of healthy fat! Yes, eating fat is GOOD FOR YOUR BODY! It helps fuel you longer and feeds those muscles!
We buy the FULL FAT yogurt and any kind of nut butter has lots of healthy fats!
5. Bring Peanut Butter with you wherever you go with these convenient on-the-go packs from Crazy Richards! They are perfect to stuff in your purse for those sudden hanger strikes! They are great straight from the packet and added to your favorite foods! They even have an
all natural energy boost
added!